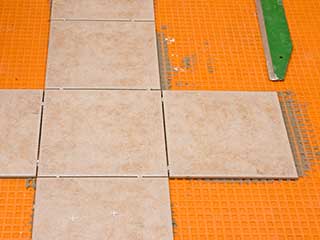 What Types Of Tile Are There?
You may be surprised to learn that there's numerous types of tile available, all with a variety of looks and textures! There are more than just the boring old white squares that you probably first think of. Natural stone may be the most expensive, but they're also the most gorgeous and elegant addition to a room. The colors tend to be stark and strong while not being too distracting, and can have patterns like marble and granite. Glass is extremely customizable and comes in an array of colors, though it also will need to be treated more carefully than most. Ceramic is the cheapest option, and therefore the most common. If you're looking for a type that is the strongest and also the least likely to have bacteria and mold growth, your best bet is glazed porcelain.
What Are The Benefits?
Why install tile in to begin with? The biggest reason is for ease and lack of maintenance. Tile is waterproof so you won't need to worry about water damage, particularly for areas where this is common like the bathroom or kitchen, and also spill resistant because of this. It's easy to clean up, and tends to be much longer lasting than most other materials. It can be used as an accent to an area, or the main component! Whatever the look you desire, it will easily fit.
We Can Install It Right Away
Our professional installation starts with a cleaning of the designated area to remove anything that may be averse to the adhesive and give it troubles with sticking. We'll also check the flatness of the spot, as any dents or other imperfections can cause trouble with how flat the tile will lay. Once the layout is confirmed, we'll begin attaching the tile pieces and use a spacer to ensure they're even. After the adhesive dries we can then apply grout between the tile and seal it.
Schedule Your Appointment Now
Call Drywall Repair & Replacement Moorpark today and let us install new tile for your home.
Looking for more? We also offer:

Drywall With Texture

Drywall With Foil Backing

Tile With Wire Mesh

Popcorn Ceiling With Soarkle