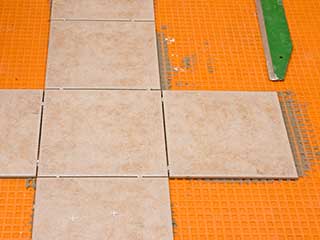 Beauty is a major prerequisite for indoor or outdoor tiling. The structure and aesthetic of tiles installed in kitchens, bathrooms, and on various walls or as floors have become highly sought out. Beautiful decorative tiles, after all, have a clean and smooth aesthetic that can elevate the décor without much effort. Installing tiles can feel like an arduous task if you lack experience and skill in this field. Well, that's where our local Moorpark tile installation contractors come in handy. And remember, this type of layout has a lot more advantages than just aesthetic additions. Tiles will also prove easier to clean, with their moisture resistance that expels liquids and prevents absorption. You can get all the info you need by reaching out to us to arrange for a free in-person estimate.
Installing Moorpark Kitchen & Bathroom Tiles
The anti-moisture features of wall and floor tiles make them excellent for any room with a lot of splashing liquids. Shower tiles need to keep the water from damaging or soaking into the drywall or even concrete behind them. That's why when installed shower wall tiles or bathroom floor tiling sealing the grouts correctly is so crucial. For kitchen tiles, you want to make sure any spills or oils don't become hard to remove stains. Installing tiles in your Moorpark kitchen ensures that any stain you leave after cooking you can easily wipe away afterward.
Porcelain Tiles, Ceramic & Laminate
The type of tiling you can choose for your Moorpark property can vary quite a bit. Each type of tiles, porcelain, laminate (floating wood style), and ceramic tiles being the most popular, offers different attributes and pros/cons. Ceramic tiles have a natural white and clean look that makes them highly decorative and stylish. They also offer a more hardwearing tiling material that can resist outdoor conditions better. Ceramic tiles, with their more earthy red tones, cost less, and offer a faster and simpler installation. Of course, their durability doesn't compare to porcelain tiling. For those looking for more stylish décor, laminate tiles, also known as floating wood tiles, provide a layout that mimics the textured appearance of timber. These wood-look tiles offer a great sense of homey and classic décor, without leaving you to deal with the high maintenance of real wood.
Wall and Floor Tiling
The beautiful thing about tiles for floors and walls is that while installation can prove difficult, it's well worth it afterward. Installing floor tiles can tie an entire room together with lovely patterns and designs. From arabesque tiles to solid color choices, you can create entire mosaics that connect to form a large surface area. Looking to install new tiles in your Moorpark home or business property? Get in touch with us via our service hotline to schedule a free consultation on any remodeling and tiling services!
What Types Of Tile Are There?
You may be surprised to learn that there's numerous types of tile available, all with a variety of looks and textures! There are more than just the boring old white squares that you probably first think of. Natural stone may be the most expensive, but they're also the most gorgeous and elegant addition to a room. The colors tend to be stark and strong while not being too distracting, and can have patterns like marble and granite. Glass is extremely customizable and comes in an array of colors, though it also will need to be treated more carefully than most. Ceramic is the cheapest option, and therefore the most common. If you're looking for a type that is the strongest and also the least likely to have bacteria and mold growth, your best bet is glazed porcelain.
What Are The Benefits?
Why install tile in to begin with? The biggest reason is for ease and lack of maintenance. Tile is waterproof so you won't need to worry about water damage, particularly for areas where this is common like the bathroom or kitchen, and also spill resistant because of this. It's easy to clean up, and tends to be much longer lasting than most other materials. It can be used as an accent to an area, or the main component! Whatever the look you desire, it will easily fit.
We Can Install It Right Away
Our professional installation starts with a cleaning of the designated area to remove anything that may be averse to the adhesive and give it troubles with sticking. We'll also check the flatness of the spot, as any dents or other imperfections can cause trouble with how flat the tile will lay. Once the layout is confirmed, we'll begin attaching the tile pieces and use a spacer to ensure they're even. After the adhesive dries we can then apply grout between the tile and seal it.
Schedule Your Appointment Now
Call Drywall Repair & Replacement Moorpark today and let us install new tile for your home.
Looking for more? We also offer:

Drywall With Texture

Drywall With Foil Backing

Tile With Wire Mesh

Popcorn Ceiling With Soarkle