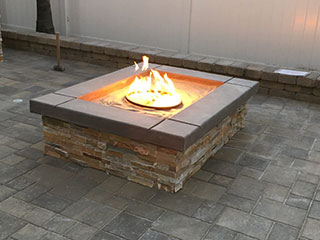 If you've ever visited a friend or family member with a patio fireplace, you know just how cozy they can make a regular porch. Outdoor heating comes in all sorts of styles, from fire pits to electric heater stands. Outdoor fireplaces have almost as much aesthetic value as they do heating utility. If you go the fire pit route, you also get new options for cooking and outdoor entertaining. For Moorpark, our professional patio and deck contractors are available for free consultations on the choices and hardscape designs. We provide free estimates on custom-built outdoor heating for all sorts of hardscape patios and wooden decking platforms. You can upgrade courtyards and porches with beautiful paved outdoor fireplaces and marshmallow roasting ready fire pits.
Types of Outdoor Heating For Moorpark
In addition to the electrical type, there are two basic kinds of outdoor heating features. Outdoor fireplaces are contained on three sides, just like an indoor fireplace. Often, one of these will be attached to an outer wall of the house or other buildings, like the popular patio fireplace design. Fire pits are open on three or more sides, and either embedded in the ground or raised up on support columns or legs. Fire pit tables are raised fire pits, usually movable, that have some table space around the edges. These fixtures are great for cooking, eating, or just sitting around a fire outdoors comfortably and safely.
Cooking Over Wood and Propane Fire Pits
Outdoor heating is a great thing to have, but outdoor cooking is a luxury all its own! When it comes to fires for cooking, the choice of wood or gas fuel is an important one. Outdoor gas fireplaces and propane fire pits give you a consistent, dry flame regardless of the weather. Propane fire pits are also much easier to feed since there's no solid fuel that needs carrying. Wood fire pits are less expensive and have a more traditional outdoorsy appeal. A wood fire pit does require a little more heavy lifting, but it also has fewer safety requirements since there are no gas lines or tanks. For a fire pit table, it really depends on how easy you want the table to be moved. Propane fire pit tables can be tricky to move around.
Outdoor Fireplace Ideas for Comfort and Warmth
Thinking about a patio fireplace? Outdoor gas fireplaces are getting to be more popular than the old fashioned wood variety. Being built into the side of the house makes them safer since outdoor gas fireplaces can use built-in pipelines just like any kitchen gas stove. Patio fireplaces are some of the most common outdoor heating features since they make your patio or porch good for sitting no matter the weather. Stone, brick, concrete, and metal patio fireplaces are all viable, and they can be built into an outer wall or added as freestanding columns. You can find all sorts of fireplace and fire pit style options just around Moorpark. Ask our consultants, and they'll give you even more.
Outdoor Heating Infrastructure, Expenses, and Safety
Adding fire features to patios or decks has a lot of logistical and construction factors to take into account. Safety and expense being the most obvious, it's important to consider them thoroughly, as well as the decorative aspect, of course. Planning on adding a gas feature, like a propane fire pit or an outdoor gas fireplace? More safety concerns need consideration. You can have our experts come over and give you a free consultation, plus a quote! Get thorough advice on outdoor heating for your Moorpark deck or patio from the best contractors near you! Find out about the different fire pit design ideas and outdoor fireplace upgrades you can add to your outdoor settings. These hardscape features do more than elevate the look. You can enjoy cooking and eating outside every day if you choose. Arrange for your free estimate by contacting us today!