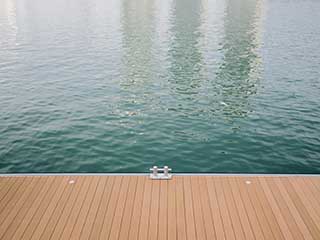 We're the local experts in composite wood decking and other outdoor living features. Our experienced deck installers have been working with composite decking materials for a long time. We've built platforms with pergolas, gazebos, railings, and all sorts of outdoor shade structures and living features. For residential and commercial properties alike. This has made us become the go-to composite deck builders in the Moorpark area. Our amazing range of deck design choices gives you the best selection of composite decking materials and accessories around. Explore the possibilities, and find out how little a new composite deck could cost you by requesting a free quote.
Choosing Composite Decking – The Pros
Any homeowner who's owned a wood deck knows what a pain they can be to maintain. Deck repairs are common, with rotten planks often being an issue after bad weather. Even when the timber stays dry, issues such as splintering and insect infestation can make them an added burden for busy homeowners. Composite decking addresses all of these issues. Materials such as Trex are constructed from a combination of wood and plastic. That makes them extremely resilient to damage, as well as preventing water from being a problem. No more constant resealing and repairing a damaged wooden deck. With the low maintenance materials, composite decking is a smart investment. And we're ready to help you choose the design and deck features that'll best improve your home.
Cheap Moorpark Composite Decks
Never pay over the odds when you work with Drywall Repair & Remodeling Moorpark. We offer industry-beating prices on all our composite decking services. This includes multi-level decking installations, single-level units, and all other types of decking products. You'll even get the best rates on above ground pool decks, which can be integrated into a full deck if necessary. Make sure you're getting the best deal possible by arranging a free quote upfront with our expert deck installers. We'll meet with you at your office or residence to provide all the information and advise you on different aspects of picking a new composite deck. Our professional contractors will answer any questions you have, and provide you with peace of mind that the job will be done right the first time.
Best Custom Deck Design Around
We know that you're proud of your Moorpark home, and want it to look its best. To do this, you need total control over how your new composite deck looks. We offer a huge range of different products to choose from, so you can customize your new composite deck to fit your requirements. Choose from attractive deck railings that provide safety and style in equal measure. Light up your home with subtle deck lights, making your new deck the perfect venue for evening entertainment. When you work with Drywall Repair & Remodeling Moorpark, you'll get access to the best brand names and products on the market.
Taking Care Of New Composite Decks
Deck repairs and maintenance usually become a thing of the past when you install a composite deck. These materials are extremely durable and aren't susceptible to common issues such as rotting, warping, and splintering. However, sometimes problems do arise, often due to circumstances beyond our control. Well, we offer a solution. Our deck maintenance service team provides services all across the Moorpark area. If you need composite deck repairs in a hurry, then all you have to do is give us a call. Our contractors will get your composite deck back to optimal working and aesthetic condition ASAP. Before you know it, you'll get back to enjoying this aesthetic and functional aspect of your home.
Learn More With a Free Quote
Interested in learning more about the different composite decking options you can pick? Well, talk to one of our local Moorpark composite decking contractors to receive a free estimate that covers everything. We'll talk about different composite deck designs, custom features, materials, and more. From rails and stairs to above ground pool deck lighting and even outdoor kitchen setups and motorized canopies. We deliver the complete package when it comes to outdoor shade structures and composite decking. So get in touch with us at any point to schedule a free consultation on decks and more.