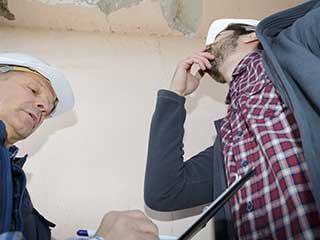 Keep Your Ceilings In Great Shape
While the drywall that's used for ceilings is much sturdier and thicker than what's used for walls, that doesn't mean that it can't wind up with damage over the years. Be it from wear and tear, an accident, or otherwise, harm to your ceiling will pull eyes away from your lovely home and make them focus on your shabby looking ceilings instead. Aside from this, the harm may worsen over time if allowed to linger, as well as posing a potential risk of pieces falling down if it's bad enough. It's best to let the experts repair it for you in no time.
We Can Tend To Textured Ceilings
While it adds a bit more to the overall process, our technicians would be happy to take care of ceilings with textured paint. Before we get started we'll check for any studs, pipes, or wires in the ceiling to be aware of, as well as how far the damage extends. For these types of ceilings, the next step it to completely scrape off and remove the textured paint so that it won't be mismatched with the added in portion of the ceiling. We'll remove the damaged area completely before cutting a new piece of the appropriate size and thickness to fit. It will be attached with drywall screws, then special compound and tape is used on the joints. After everything is smoothed out, all that's left is to prime and then use a roller with a textured sleeve to reapply the paint.
Smooth Ceilings Are Not An issue
Smooth ceilings remove the step of needing to remove the textured paint and reapply it, and are no problem at all for us to tend to. We'll still take as little of the original drywall away as possible, just enough to remove the damage, and replace it with the correct fit of drywall so it's just as strong.
Don't Wait Any Longer
Rather than be stuck with a ceiling that looks run down, just call Drywall Repair & Remodeling Moorpark today.
Our team can also take care of:

Tile Installation Without Grout

Basement Ceiling Drywall Repair

Drywall Hole Repair & Painting

Asbestos Popcorn Ceiling Removal